Brianna's Blog Post # 16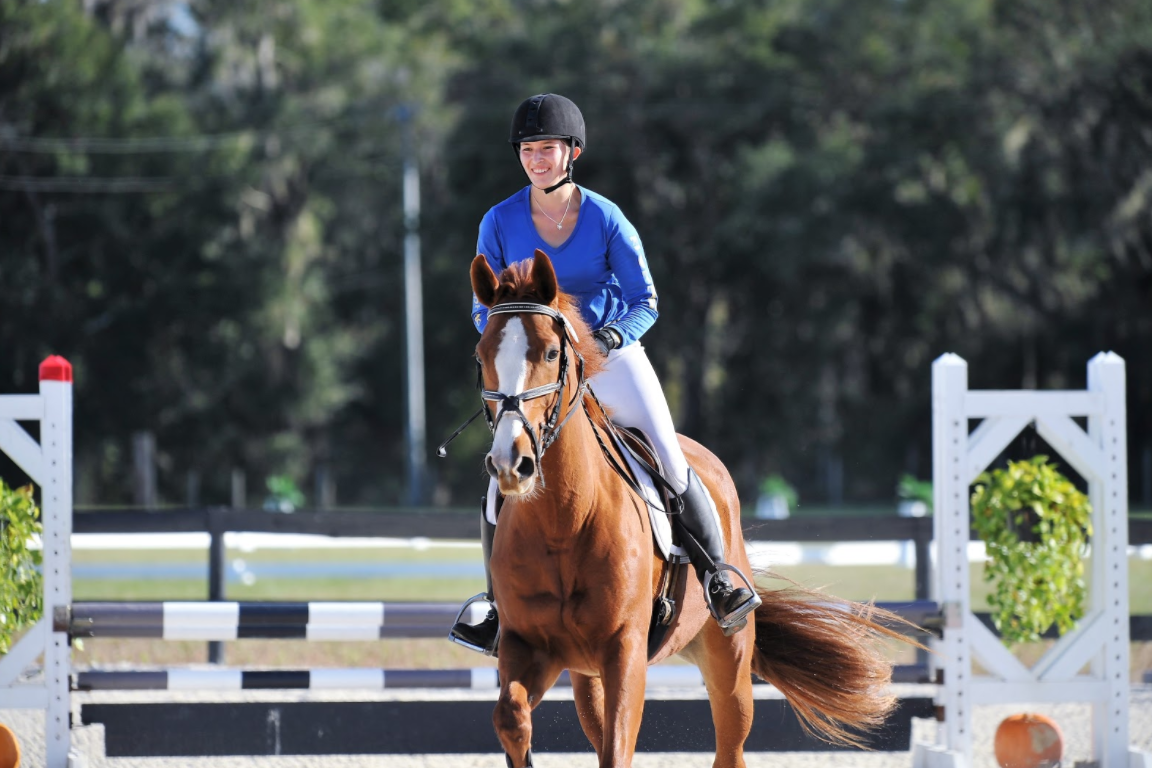 (Enjoying the ride leading up to a win at Rocking Horse back in November)
It was almost five months ago that I wrote about my journey to Florida. It's hard to believe five months have slipped by and I have successfully survived my first semester of college with straight As. It feels like just yesterday I was tackling my first day alone. Today I looked up and realized just how much I was enjoying this journey.

When I arrived in Florida I felt like my whole life stopped. I rode my two horses and got started on school, but the busy life I had built in Ohio was left behind. Some of the first days in Florida consisted of hours without anywhere to go. It offered plenty of time for self reflection and book reading. It seemed like that quiet moment between two songs where everyone waits to hear what is next.

I was dropped into a new world were I had to begin building all over again. I had to begin building friendships and connections and I had to begin building a sense of place and a reputation. I was thankful for my horses because they were the one thing that tied me to my past life. They were the one thing that I still understood and they let me escape from the stresses of college and the blank slate that I stood staring at, unsure of where to begin writing.

The words came out of nowhere and it seemed all of a sudden I was struggling to write it all down. I was finding myself in every equine adventure exploring my new world called horse country and that it is. I found my way into tack shops spending more money than I should have. I spent weekends at reining horse shows, dressage shows, driving competitions, and warmblood inspections. I also checked out the Ocala Jockey Club International event (which was awesome). I tagged along with Tik Maynard to watch his lesson taught by the Canadian Olympic Eventing coach, Clayton Fredericks. Through school I got to dissect a horse's heart, which happens to be as big as a human head and absolutely incredible looking. I also dissected a horse's leg, allowing me to investigate the tendons, ligaments, joints, and bones which are capable of extraordinary things considering the weight that they carry! I even got to ride a racehorse. Let me tell you there is no thrill like feeling the true power and speed of the ultimate athlete. If you have the guts for it I would definitely recommend taking the equine lamborghini for a spin around the track. Just take your helmet, vest, and send several prayers.

I have to admit it hasn't been all sunshine and rainbows even though this is Florida. I found out the August heat in Florida is to die for...literally. I also found out that if you are going to run away from home with horses take the truck and trailer too because you're going to need them to get to lessons, competitions, and schoolings. Another lesson was that once you do get the truck and trailer expect the truck to break down and cost a fortune. Then expect the car that you brought to go haywire and cost at least half a fortune. Needless to say I have experienced broke now. I must also say that being a working student is still not easy just incase you thought that has changed. You still spend your days mucking out stalls and figuring out how to get to the top of the manure mountain. I am no longer a working student since Tik found me a job with the farm across from him since he couldn't pay me and again...I'm broke. Another thing you will learn if you ever take up a job riding horses all day is that you will hurt. Yes, after a few days of 6, 7, and 8 rides a day I hurt everywhere. I discovered back muscles, arm muscles, leg muscles and even ab muscles that are required to keep you on a horse.

Among the more positive things that I have learned is that Ocala, Florida has a tack shop just about every five miles. It also has a top rider on every corner including Kylie Carter, Joe Meyer, Jonathan Holling, and Sinead Halpin to name a few. Plus you can almost always find a horse show within 30min of wherever you are. Of course the most wonderful thing about Ocala is the weather in the winter. It is now nearing January and I spend my days enjoying 75 degrees with a breeze. My horses are beginning to despise the great weather because it means more time to ride and train, but they could always go back to Ohio's -5 degrees with rain and mud. On that Florida does not have mud. It has sand everywhere and you can literally just drag the ground and presto, riding ring. Amazing right?


Even though it has cost several pennies I look back now at the past five months and think what a privilege it has been to ride the ups and downs of this unforgettable journey. I think about all that I have learned this short time in paradise and wonder what waits for me in the future. If you ever decide to take the leap and leave home on an adventure like this one, my advice is to see, learn, and do everything and most importantly enjoy the ride!
P.S. Happy New Year to all. Go conquer your 2017 equine aspirations!